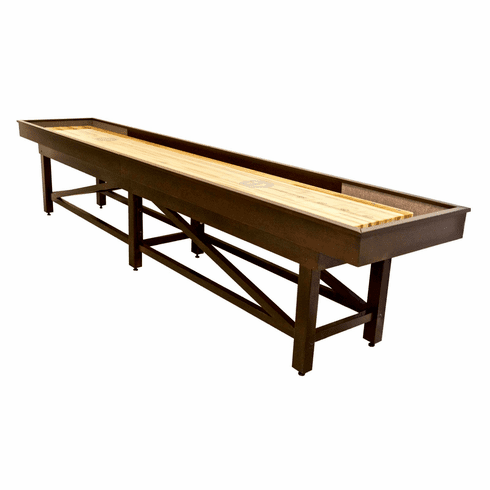 22' Champion Sheffield Wood Shuffleboard Table
Description
The 22' Champion Sheffield Wood Shuffleboard Table features a modern, edgy design, combining contemporary features with the very popular industrial look. The result is this stunning, regulation size 22' Shuffleboard, which is perfect for a 28' space. Solid Maple cradle, legs & playfield, that is finished with Championís proprietary polymer coating.
Specifications
Specifications and Standard Features
Solid Canadian Maple Playfield with Polymer finish.
Solid Maple cradle and legs with clean lines and a contemporary design.
One set of American Shuffleboard brand weights (pucks) included, along with Sun-Glo wax and silicone spray.
Playfield: 20' 8" long x 20" wide x 3" thick (7" with the climatic adjusters).
Other Available Sizes: 9', 12', 14', 16', 18' and 20'.
Cradle Width: 31" without scoring unit, 36" with scoring unit.
Cradle Length: 22' overall, comes in two 11' sections.
Table Height: 30" to the top of the playfield.
Assembled Weight: 1210 pounds.
Shipping Weight: 1430 pounds.
Handicap Scoring Available.
Playfield has a Lifetime warranty.
Cradle has a one year warranty.
This model has five legs and eight climatic adjusters.
Additional Options & Upgrades Available for Purchase
Stain Color Options: Black, Capri, Charleston, Dark Brown, Dark Cherry, Espresso, Fruitwood, Grand Champion, Mahogany, Medium Brown, Millcreek, Modern Mahogany, Natural, Old World, Rustic Gray, Walnut.
Customize your shuffleboard with a full color logo.
Scoreboards: Large Round , Triangle , Small Round , J-Bar , and Rail Mount .
Pin Gate anti free play device (available for coin operated units).
Light Kit : Includes two light fixtures and mounting hardware.
Related Items