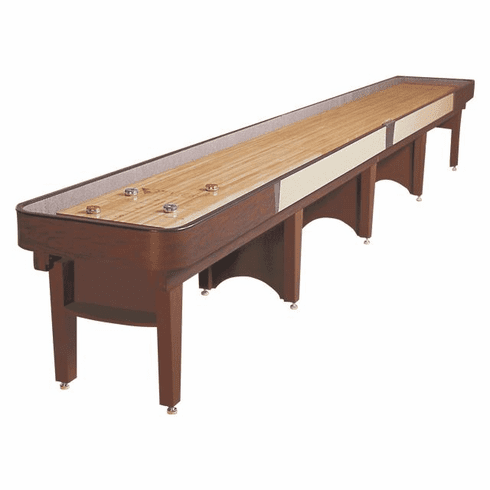 20' Venture Ambassador Shuffleboard Table
Description
The Ambassador, the newest offering from Venture Shuffleboard, was designed by The Shuffleboard Federation for table shuffleboard's premier events, the North American Shuffleboard Championships and the World Championship Tournament. It includes some of the same design features as our top of the line shuffleboard table, the Grand Deluxe.
The Ambassador, which also comes in 22', 18', 16', 14' and 12' sizes, is made by Venture Shuffleboard, which continues to set the standard for high quality, elegantly designed shuffleboard tables. To see a larger image of the Ambassador, click the Ambassador image at the top of this page.
Looking for a fun way to spend quality time with your kids? This strategic, challenging game will provide many hours of fun for the entire family. A great tool for helping kids develop hand-eye coordination.
SPECIFICATIONS:
PLAYING SURFACE: Constructed of the finest kiln-dried rock maple. A full 3" thick, which has been planed and sanded to provide the truest playing surface available. To insure that your board will stay as true as the day it left the factory, Climatic Adjusters are included with every Ambassador Shuffleboard Table. The foul lines, scoring zones and numbers are silk screened onto the surface before it is topped off with seven coats of Venture's exclusive hard clear synthetic lacquer.
LEGS: Shelf style legs on the outside, tapered pedestal style on the inside legs. All are made of solid wood with threaded rubber-padded levelers that are easily adjusted with a standard 9/16' wrench for quick leveling.
CRADLE: The ends of the cradle, commonly referred to as the "Horse Collar", are made the old fashioned way, from a single piece of wood which is steamed and bent into shape for maximum strength and style. The side rails consist of high pressure laminate over solid poplar. The gutters are tongue and grooved into the side rails for maximum strength.
SIZE: 20' Long x 31" Wide x 31" to 33" High
ACCESSORIES: All Ambassador Shuffleboard Tables include a set of eight Weights (pucks), 3 cans of Ultra Glide™ Powdered Wax , 1•2•3 Cleaner™ , 1•2•3 Polish/Wax™ , Super Slick® Silicone Spray , T-Square, rules & how to play information.
WEIGHT: Net weight 560 lbs.
For additional information, please contact us at 866-561-8667, outside North America, 248-437-3600, Fax 248-437-2022.
Related Items