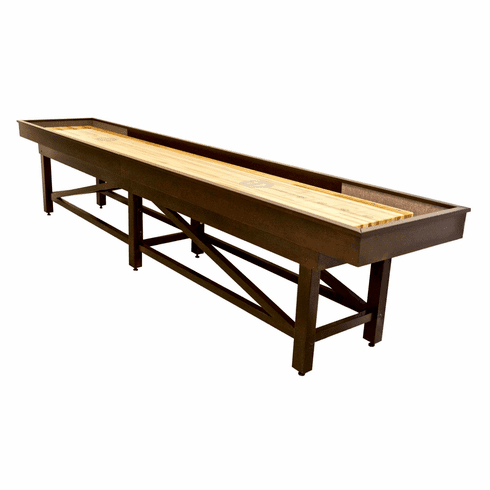 16' Champion Sheffield Wood Shuffleboard Table
Description
The 16' Champion Sheffield Wood Shuffleboard Table features a modern, edgy design, that combines contemporary features with the very popular industrial look. The result is this stunning 16' Shuffleboard, which is perfect for a 22' space. Solid Maple cradle, legs and playfield, which is finished with Championís proprietary polymer coating.
Specifications
Specifications and Standard Features
Solid Canadian Maple Playfield with Polymer finish.
Solid Maple cradle and legs with clean lines and a contemporary design.
One set of American Shuffleboard brand weights (pucks) included, along with Sun-Glo wax and silicone spray.
Playfield: 14' 8" long x 20" wide x 3" thick (7" with the climatic adjusters).
Other Available Sizes: 9', 12', 14', 18', 20' and 22'.
Cradle Width: 31" without scoring unit, 36" with scoring unit.
Cradle Length: 16' overall, comes in two 8' sections.
Table Height: 30" to the top of the playfield.
Assembled Weight: 880 pounds.
Shipping Weight: 1040 pounds.
Handicap Scoring Available.
Playfield has a Lifetime warranty.
Cradle has a one year warranty.
This model has three legs and six climatic adjusters.
Additional Options & Upgrades Available for Purchase
Stain Color Options: Black, Capri, Charleston, Dark Brown, Dark Cherry, Espresso, Fruitwood, Grand Champion, Mahogany, Medium Brown, Millcreek, Modern Mahogany, Natural, Old World, Rustic Gray, Walnut.
Customize your shuffleboard with a full color logo.
Scoreboards: Large Round , Triangle , Small Round , J-Bar , and Rail Mount .
Pin Gate anti free play device (available for coin operated units).
Light Kit : Includes two light fixtures and mounting hardware.
Related Items