Champion Worthington Shuffleboard Table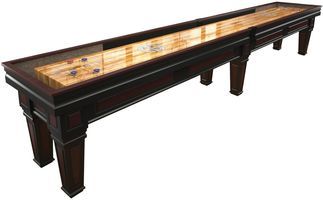 Champion Shuffleboard is world-renowned for their innovation and expertise. The company has been responsible for important contributions to the shuffleboard industry, including their special polymer finish on every solid maple playing field, which is standard on all their tables. This feature is now the standard for tournament tables.

The Worthington features Champion's patented handicap scoring system, which is designed so that novices can play with more experienced players at a more equal level. This creates a faster-paced and exciting game. Also standard on this table is a solid maple cabinet and a side hideaway drawer that can hold weights, brushes, powder and other accessories. Choose from several different colors of stain for perfect matching of room décor. Sizes range from 12-foot to regulation 22-foot tables.

This custom shuffleboard table has several optional features and accessories, such as a manual or electronic scoreboard, 2-piece playfield and Champion lights. Free curbside shipping is included, and expert installation is available.

The Shuffleboard Federation was founded by John McDermott, Table Shuffleboard Hall of Famer and Director of the North American Shuffleboard Championships. The company provides high-quality shuffleboard tables and accessories, exceptional service and industry expertise to customers around the world. They are available to answer any questions you have about these products.