Venture Monaco Shuffleboard Table
Venture Monaco Shuffleboard Table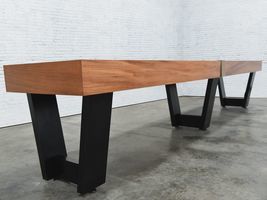 Learn more about the beauty of Venture Monaco Shuffleboard Tables below or browse our extensive line of Venture Shuffleboard Tables right here:
The History Behind the Saw Blade Cut Venture Shuffleboard Table
Great Shuffleboard Tables are not made overnight.
Venture, a leading manufacturer of Shuffleboard Tables since 1997, was on a mission to create a modern Shuffleboard Table that flawlessly combined functionality and beauty in one. Although their Research and Development team had something in the works, it took time for a saw blade to finally meet wood. In fact, it wasnít until the opportunity to work with a highly-regarded and nationally recognized designer for a television network came along that Venture began working in earnest on the beauty that we now refer to as the Venture Monaco Shuffleboard Table. The concept Shuffleboard Table featured white oak in a washed grey stain complete with solid mahogany legs. As the warm and cool wood tones flawlessly complemented each other, it was clear that this Shuffleboard Table would be a showstopper in every venue, be it a home, bar, tournament, etc. To add to the uniqueness of this new creation, the Shuffleboard Table lacked a name. The designers chose the name Monico to match its grandiose and magnificent personality. Thus, the Venture Monaco Shuffleboard Table was born and, to this day, it reigns supreme for beautifully combining luxury and functionality.
Buy a Modern Venture Monaco Shuffleboard Table Online Today!
Are you a Table Shuffleboard enthusiast who appreciates the value of premium quality Shuffleboard Tables? Then, take it from a fellow lover of the sport ó you donít want to miss out on the Venture Monaco Shuffleboard Table. Contact us today at 866-561-8667 for more information.