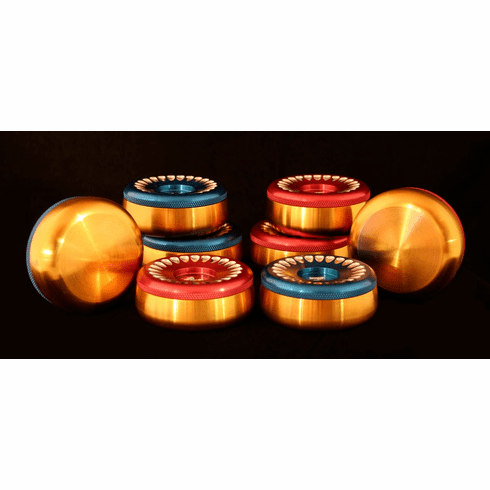 Pro Series Gold Shuffleboard Weights
Description
Go for the Gold!
Pro Series Gold Shuffleboard Weights offer the ultimate in performance and style for both the casual Table Shuffleboard player and accomplished professional. Take your game to the next level with the world's finest shuffleboard weights, Pro Series Gold.

Pro Series® Shuffleboard Weights (sometimes referred to as pucks) are designed to provide consistently superior performance on any type of playing surface, including lacquer and polymer finishes.

In order to achieve this, each set of Pro Series Weights® is individually speed tested. Any weight that does not meet the very strict test criteria is re-polished and re-tested until all eight weights are equal in speed. Other brands of weights have variances of several feet between the speed of the fastest and slowest weights in the set.

Once a set of Pro Series Weights® has passed inspection, it is assigned a serial number unique to that set. This number is then engraved on the top of each weight in the set, underneath the caps. Pro Series Gold Weights® feature a super tough, durable hard Titanium coating and are guaranteed for life.

Pro Series Shuffleboard Weights® are the most widely used weights in the competitive shuffleboard world. They are the number one choice of top players and serious amateurs alike, and win more than three times as many tournaments as all other brands combined..

Each set of Pro Series Weights® include high performance blue and red Pro Series Aluminum Weight Caps, and a set of Pro Series® Gold Foul Decals.

Satisfaction guaranteed!