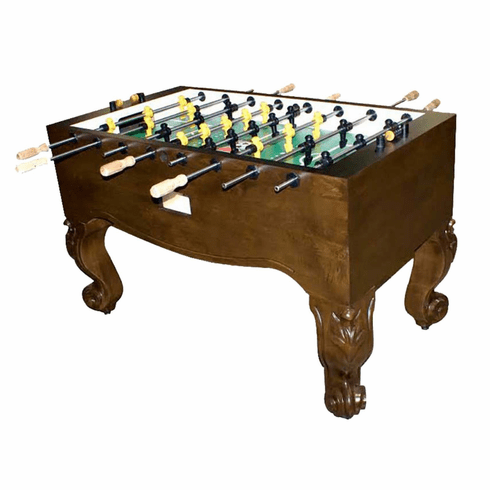 Champion Scottsdale Foosball Table
Description
The new Scottsdale Foosball Table from Champion Shuffleboard and sister company, Tornado Foosball, is a signature design piece that looks great in any game room. Featuring solid wood cabinet and legs, the Scottsdale Foosball is a statement piece, perfect for an upscale game room. The classic style of the Scottsdale Collection is timeless, and gains character with age and play. The beautiful wood details and quality features are a part of every Champion Foosball Table.
Specifications
Specifications and Standard Features
The Tornado Scottsdale Foosball Table is a professional table available for the home
This beautiful table features dual ball returns and heavy gauge rods
High-Quality American Made Foosball Table With Solid Wood Cabinet and Hand-Carved Legs
Thin-wall split Competition bearings for greater control and shot blocking.
Single Goalie or 3-Goalie Design and Professional-Grade Rods
Hollow-Core Rods For Lighter And Smoother Feel
Patented Tornado men improved with sharper corners and increased cross section for better ball control and passing
Tornado's patented split bearing design combines durability, function, and ease of replacement and removal for cleaning
Natural solid-wood handles, which are octagon shaped for maximum feel and control
Patented Urethane-Textured Foosballs which are ultra-durable and nick resistant
3/4″ laminate playfield with three-color Tornado logo.
Redesigned player "foot" allows more precise ball control with higher cross hatching and square sides
Dual side ball returns accommodate both competitive games and single-player practice
Classic Style blonde-and-black goal counters
Proudly built in Richland Hills TX, USA.