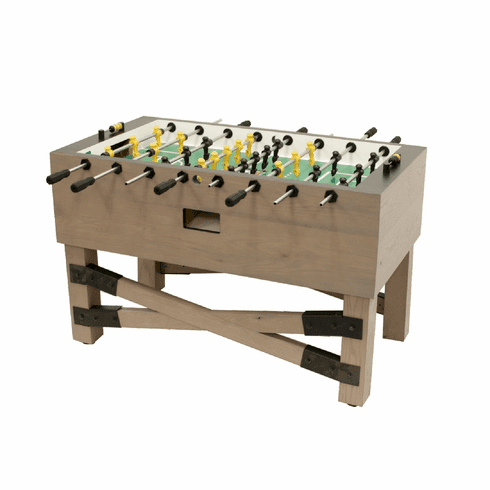 Questions? Call 866-561-8667
Speak directly to Company Founder, John McDermott.
Tornado Rustic Foosball Table
Description
Our partners Champion Shuffleboard and Connelly Billiards have years of experience with beautifully crafted stained wood finishes. From that expertise, Tornado now offers a line of Foosball tables featuring furniture-quality craftsmanship and an attractive selection of stain shades. Fully American-built in our Richland Hills TX facility, stained by hand, and designed with the time-tested features that have made Tornado tables renowned for their enjoyable game play, these beautifully-constructed tables will provide years of reliable enjoyment. Whether alone, or matched with a combination of Champion Shuffleboard, Connelly Billiards and Dynamo Air Hockey tables, our crafted Tornado Foosball tables will make your game room a true showplace.
Specifications
Specifications and Standard Features
Thin-wall split Competition bearings for greater control and shot blocking.
Patented Tornado men improved with sharper corners and increased cross section for better ball control and passing
Tornado's patented split bearing design combines durability, function, and ease of replacement and removal for cleaning
Natural solid-wood handles
3/4″ laminate playfield with three-color Tornado logo.
Redesigned player "foot" allows more precise ball control with higher cross hatching and square sides
Dual side ball returns accommodate both competitive games and single-player practice
Classic Style blonde-and-black goal counters
Proudly built in Richland Hills TX, USA.